We Have Been Nominated for the Cover Excellence Awards 2019!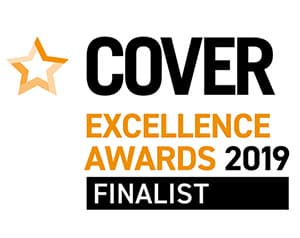 We are over the moon to announce that we have been nominated for the Best Specialist Intermediary, the Customer Service and the Small Intermediary Of The Year Awards.
We are so proud of this result as it is amazing to have been recognised for all our hard work over the past year, especially as we are finalists in 3 categories. This just goes to show how much pride and effort we put into every aspect of the business to ensure that it is as good as it can be; we are passionate about protecting families and everything we do is to help people find the protection that they deserve.
Since 1999 we have helped thousands of people find the protection that they may have struggled to obtain by themselves, and we want to help more and more people achieve this goal, so that people who are classed as "high-risk" can get protected. Each award nomination that we achieve will help us to reach this goal as it will help to spread awareness for our cause, so more people can find us and get in touch, to secure their peace of mind.
Everything we do is to make our customers lives easier, and we hope these award nominations help to convey this. We are constantly striving to improve our business and the insurance industry as a whole, so that "high-risk" clients get treated more fairly by insurers.
We attended the ceremony this October and unfortunately we did not win any of the awards, nevertheless we wont let this dampen our spirits and we will continue to campaign for a fairer insurance industry.