Tyson Fury is making us think about life insurance
The surprising ways that Tyson Fury is reminding us to talk about life insurance
Later this year, Tyson Fury will likely fight Oleksander Usyk for heavyweight supremacy. While the date has still not been 100% confirmed, it is likely to take place in Saudi Arabia on 23 December, although it could be delayed until January. The latest sources from ESPN indicate that the details of the bout could include a two-way rematch clause.
You may be wondering why we're talking about Tyson Fury.
After all, we're life insurance brokers.
What does boxing have to do with life insurance?
Well, a surprising amount to be honest.
Firstly, boxing has a reputation for being one of the most dangerous sports in the world. The risks of brain damage (or worse) each time a boxer steps into the ring are widely known, so its essential that anyone who participates in the sport (either professional or amateur) has appropriate insurance in place.
But secondly, Tyson Fury has been a big topic within our office, ever since his Netflix reality show "At Home with the Fury's" dropped on our screens.
During the nine-part series (which has been renewed for another season), Fury spoke with total honesty about his mental health and how he needs to fight to remain mentally stable. His ability to help viewers see the reality behind the headlines and understand how mental health impacts his day-to-day life is hugely important. But more significantly, his willingness to share his story is helping to start new conversations about mental health and change the way that we view those affected by personality disorders.
As big boxing fans, we think that Fury's efforts to normalise mental health should not be understated. Thanks to him speaking openly and honestly, it makes it easier for other people to seek help if they need to do so.
Coming back to a life insurance perspective, we're often asked, "can people get life insurance, if they have poor mental health" and the answer is a resounding yes.

Life insurance is about understanding your hobbies and your health
So we know that if you're a boxer (or you participate in a dangerous sport), and if you have a complicated medical history it's important to try and get life insurance.
But surely combining two complicating factors makes it difficult, or almost impossible, to secure cover?
Not necessarily.
Andy Mellor, Managing Director of The Insurance Surgery tells us:
"'Insurers base their premiums on a level of risk. There are many risk factors that can influence this, and being a high profile sportsman or woman naturally attracts a greater risk – especially in boxing because the reality is that even with the greatest trainers in the world behind him, someone like Tyson Fury could be seriously hurt in the ring. Interestingly though, boxing is less dangerous than sports like swimming, motor racing or horse racing
Andy knows that insurance companies are more than happy to provide boxing enthusiasts with cover, as long as they are given enough relevant information for their underwriters to make an informed decision.
He says: "'A boxer who is looking for life insurance is about more than just the nature of the sport. It is important to understand as much about the person as possible. In the case of boxers; How often do they box? How do they train? What boxing qualifications have they got? It is important for us to provide the insurer with as much information as possible to obtain the most suitable product and premium. More information can sometimes lead to better premiums and certainly to the most appropriate product."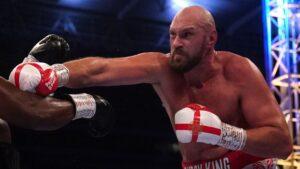 Boxing is widely associated with aiding mental health
Coming back to the wider issue of mental health, boxing can be hugely beneficial for those who need a physical outlet to let off steam.
As we mentioned, Fury has widely credited boxing with helping him to stabilise his mental health by giving him something to focus on. Yet conversely, Anthony Joshua (who ironically lost his belts to Fury's upcoming opponent, Usyk in 2022) has spoken about how boxing has "taken a toll on his mental health after recent defeats in the ring." Of course, Joshua has also been open about how boxing transformed his life and kept him out of trouble. He famously won his Olympic medal a year after being arrested for possessing cannabis with intent to supply.
So, is boxing something that is important for our mental health?
It's certainly a sport that will help with stress relief and anxiety. It requires focus and concentration, promoting mindfulness and an ability to tune out background noise. Plus, boxing is a sport which will seriously improve your physical fitness.
Andy says: "One in four people are affected by poor mental health, so insurers are now actively providing cover to people who have experienced difficulties at times of their life. We don't ever want people to feel that a history of poor mental health could prevent them from financially protecting their family, when there are so many more options available to them on the market."
"Having the likes of Tyson Fury and Anthony Joshua openly talk about their mental health is incredible, because it's removing that stigma. It's reminding people that it's OK to admit if they are not OK. If someone seeks treatment for their mental health, whether it's through the use of antidepressants, counselling or inpatient rehab, they should be commended."
He adds: "When we talk to people about their life insurance needs, we'll ask them about their physical health and medical history, but we'll also ask them about the mental health. It's not just about being able to secure them a great policy at a great price, but it's about knowing if they would prefer a policy with an insurer who provides additional services such as easy access to virtual GPs, or counselling services so they can get help if they need it. Many insurers are now actively offering these value-added extras, so we want to make sure that you're getting the right policy for you."
The Insurance Surgery can help you secure life insurance
If you're a boxer, or you have a history of poor mental health (or both), we're confident that we can find you the best price for your life insurance cover.
Our approach to finding as much as we can about your hobbies, your health and your lifestyle means that we get to know who you are. By giving as much information as we can to the underwriters, we can lower your level of risk, and lower your premiums!
To find out more about our boxing life insurance policies, or our mental health life plans, please get in touch.