Financial security when you're on minimum wage
Take a long-term look at financial security when you're on minimum wage.
Benjamin Franklin is widely accredited with coining the famous phrase, "There's nothing certain about life except death and taxes." While this is a statement that we can wholeheartedly agree with, we also believe that it is entirely possible to prepare for the uncertain moments in life.
At least financially, anyway.
As you know, we specialise in working with people like you to make sure that your finances are stable in any eventuality, from life insurance to income protection and critical illness.
We never want anyone to be financially disadvantaged because of circumstances that life has thrown at them. In our opinion, taking out insurance policies is about preparing for the unexpected and giving yourself long-term peace of mind.
But we do get worried when we talk to people who tell us that insurance is a luxury and is out of reach for those working in minimum wage jobs.
We believe that everyone should have access to affordable insurance plans, whether you're working minimum wage or you're part of the UK's top 10% of earners. In fact, we could argue that taking out a life plan or an income protection policy is even more important if you're working in a minimum-wage role.
But we understand that as the cost-of-living crisis continues to hit, insurance premiums may be seen as a luxury item and not the necessity that we think they are. Rishi Sunak has recently announced an increase in the National Living Wage from April 2024 (rising to £11 per hour), and we hope that if inflation continues to fall (and costs reduce), then that could free up a few pounds each month to put towards financial security for your future.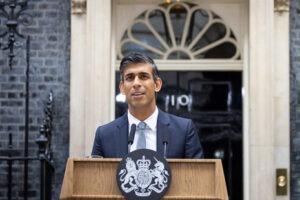 Is life insurance affordable for people on minimum wage?
Let's look at the figures.
Right now, there are approximately 1.6million workers in the UK working on minimum wage, which currently stands at £10.42ph for those aged 23+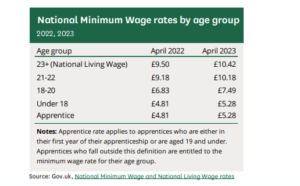 Figure 1 Image taken from https://researchbriefings.files.parliament.uk/documents/CBP-7735/CBP-7735.pdf
Minimum wage is commonly paid across a wide range of sectors and job roles, including care workers, retail staff, early years education, teaching assistants, cleaners, baristas – the list goes on.
We believe that everyone working in these sectors deserves to have long-lasting financial security, and that can come from life insurance, critical illness or income protection plans.
But how much do they realistically cost each month?
Well, it depends on a number of factors, including your age, health, BMI and medical history. There's no one-size-fits-all approach to insurance.
The cheapest way to take out a life insurance plan is to start young. The younger you are, the cheaper your premiums will be. That's because you'll be statistically at minimal risk of making a claim. As you get older, you may be more likely to develop health conditions, which could increase your premiums.
As a hypothetical example, here's how your age can impact your starting premium price.
Zoe works full-time in her local supermarket, and she is paid minimum wage. Zoe has a young child. She wants to take out life insurance to make sure that if anything happened to her, her child would receive a financial payout. Zoe wants to compare the costs of a whole-life plan (which will cover her for her entire life) with a 30-year term policy. She is looking for cover of £100,000, which she hopes would be enough to provide a nest egg for her child.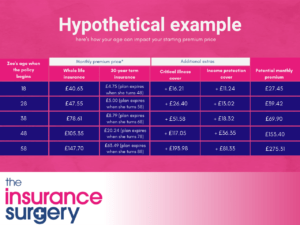 *Lowest possible prices available as of October 2023. Prices may change subject to insurers. Terms and conditions apply.
These prices are based on a hypothetical scenario. Your insurance costs will differ depending on your age, health, smoking status and medical history. But the suggested prices do indicate how premiums can change dramatically the older you are.
Therefore, if you're working in a minimum wage job, the most financially prudent decision you can make will be to take out insurance as early as possible. With both whole life and term insurance, your monthly (or annual) premiums will remain stable for the duration of the policy.
Our price promise means you'll never pay a penny more than you need
We believe that everyone should have access to affordable life insurance, critical illness, or income protection plans.
No one should be financially disadvantaged, especially if you are working in a minimum wage job.
We saw through the pandemic how important those job roles are for society, and we value you.
We can't give you a well-deserved pay rise. But we can guarantee that you're paying the lowest possible price for your insurance. Our relationship with high-street and independent firms means that we have access to more policies than anyone else, allowing us to find an insurance plan that works with your budget.
If you find a like-for-like plan elsewhere, we promise to beat it.
But more importantly than that, we know the tips and tricks that could reduce your premiums. For instance, if you're eligible for death-in-service benefits or enhanced sick pay packages, we could lower the amount of cover you're looking for. Or we can explore how different deferral periods for payouts could reduce any upfront premiums.
It's these little details which is why we've developed a strong reputation for affordable life insurance.
The Insurance Surgery can find an insurance plan that works with your budget.
If you're worried that you can't afford a life insurance plan, why not talk to us? You might be surprised by how we can help.
In a short phone call, we can help you figure out how much cover you're looking for and work out how we can find the most protection for the smallest budget.
The good news is that insurance plans can be flexible. You can always adjust your cover level in the future, but having something in place now could be essential to making sure that you and your family are benefiting from long-term financial security.
To get started with insurance for you and your loved ones, why not request a callback from one of our advisors or start a live chat?
In just a short phone call, you could be financially protected for life.