World Menopause Day 2023 and income protection.
World Menopause Day 2023: Your income protection plan could give you the support that you need.
World Menopause Day is coming back on October 18. This is a chance for people all over the world to give women who are going through menopause advice and support.
2023 was a turning point in how people talk about the menopause. Key documentaries like Davina McCall Sex, Myths & Menopause (which you can watch on the All4 app) and Louise Minchin's 'Menopause: Continuing the Conversation' (available on YouTube) have shown the problems that women face as they go through menopause. More than ever, newspapers and other mainstream media have been talking openly about the menopause. This has helped break down stereotypes and start new conversations.
But it's not all been great news.
This year, the government turned down suggestions from the Women and Equalities Committee to make menopausal leave mandatory. Even though it's been proven that up to 900,000 women have to stop working for good because of menopause symptoms.
Luckily, employers are becoming more flexible which is good news. Some remote policies can be enough for women to be able to work from home when their symptoms get too bad. We're glad to see that 2,500 businesses have signed up to the Menopause Workplace Pledge. The goal of this pledge is to make talking about menopause more common and to help women in the workplace.
What's more, recent research from the Chartered Institute of Personnel and Development has highlighted that "up to 30% of businesses now offer some kind of awareness raising, guidance, training for managers or a policy" (as reported by The Conversation.com)
Here at The Insurance Surgery, we care about women.
We always speak up for our female clients and make sure that insurance companies listen to what's important to women. We do everything we can to meet their needs, whether they want life insurance, critical illness insurance, or income protection policies.
In honour of this year's World Menopause Day 2023, we want to bring attention to the fact that few people realise that income protection plans could help people whose menopause symptoms are causing problems at work.
Currently, 14 million working days per year are lost to perimenopause and menopause each year (stats compiled by Censuswide and ONS data – as reported in People Management). This is costing businesses up to £1,8bn in lost productivity.
Many women are afraid to admit that menopausal symptoms are making it hard for them to do their jobs. They may remain in the office, struggling because they are afraid that they could be putting their careers or financial stability at risk if they needed to take time off.
Most households today require two incomes to be able to afford their living expenses which is why we're always advocating for income protection, as it can provide a huge lifeline in a worst-case scenario. We believe that no one should ever have to use their savings to cope with general living expenses, not when there are affordable options available that can give lasting financial security, whether you are sick or injured and unable to return to work.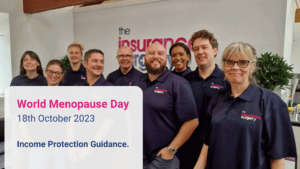 Income protection could pay out for menopause leave.
At the moment, most income protection plans will cover you if you need to take time off because of your mental health. If you find that the menopause is contributing towards feelings of anxiety, depression or a change in character, we will always urge you to speak to your GP. If you are medically discharged from work because of your mental health, your income protection plan should kick into action, protecting you and your family from a loss of income.
But to be more specific, there are insurance companies that offer specific menopause-related income protection cover. They will pay out for women needing to take time off work if they are adversely affected by issues relating to the menopause. If the income protection policy doesn't exclude menopausal conditions and the customer doesn't have a pre-existing medical condition that is affected by the menopause, there is no reason why a woman couldn't make a claim.
The value-added services that could be crucial for menopausal support.
Aside from the initial payment, which will keep coming until you feel well enough to go back to work, the bigger life insurance and income protection companies are also starting to offer their policyholders extra health and wellness benefits. This can range from access to virtual GPs and counselling services to assistance programmes. These value-added services could be crucial for women who need to seek a second opinion when it comes to menopause-related symptoms.
For example, if a woman thinks she was wrongly diagnosed with depression when she is actually going through perimenopause, getting a second opinion could help her find the right therapy for her needs.
We think that these value-added services will become increasingly important to those considering taking out an income protection plan. Not only are the services quickly accessible (reducing the need to cope with NHS waiting lists) but they can be a valuable tool when coping with the effects of menopause. Having access to this extra help could help women keep their jobs and stop them from losing money because of the menopause.
Income protection is cheaper when you take it out at a young age.
The issue of menopause is just one of the many reasons why we would urge women to take out an income protection policy as soon as they enter the workforce, if they can. That's because taking out a policy at a younger age means that you'll be less likely to have any pre-existing conditions – so if you are affected by something in later life and you do need to make a claim, you're more likely to be covered.
But perhaps more importantly, if you take out insurance at a younger age, your premiums could be much cheaper – and they will remain fixed throughout the term of your policy.
So how much does income protection cost?
Let's find out.
Income protection costs as broken down by age group:
Age
Guaranteed
Monthly benefit
Deferral period
Annual wage
Monthly Premium
24
Not age reviewable
£2000pm
8 weeks
£40,000
£32.13
34
£47.33
44
£76.84
54
£129.08
As you can see from the example costs above (correct as of September 2023), the costs of an income protection plan will change dramatically as you age.
At The Insurance Surgery, our access to income protection policies across the whole of market means that we work closely with smaller, independent insurance companies as well as high-street names.
We would advocate that when searching for an income protection plan, women should always speak to an insurance broker rather than just choosing for the lowest possible premium. By speaking with us, we can make sure that you are fully covered with the income protection that you need, even if you've got a complicated medical history or have been declined elsewhere. We'll make sure that your income protection enhances any SSP or enhanced sick pay that you're entitled to, ensuring that you and your family are not out of pocket because of your health.
We focus on what's important to our customers, and make sure that they have long-lasting financial protection against every eventuality.
Unsure if your income protection plan could pay out because of your menopausal symptoms? Why not ask one of our advisors.