Electrician Life Insurance, Critical Illness Cover And Income Protection
The main role of an electrician is to maintain and install electrical power systems for businesses, homes and other premises. A main part of being an electrician is to maintain wiring in these systems, ensuring that electricity flows correctly and to legislative guidelines. An electrician may also be tasked with working in a factory or production environment, or a construction environment in which they supply new homes and other buildings with electrical power systems and rewiring.
An electrician typically begins their work by consulting the blueprint (or technical diagram) of a circuit, taking into account the various outlets and components of that circuit, before connecting wires to circuit breakers, transformers and outlets. An electrician uses tools such as conduit benders, screwdrivers, saws, hacksaws, voltmeters, harmonics testers and other equipment to test connections and to ensure the safety of the equipment they are installing. If a circuit has faulty wiring, it is an electrician's responsibility to repair or replace it, and to do so in a timely yet safe manner. Replaced items include switches, fuses, circuit breakers and other electrical components. All equipment installed by an electrician should be inspected regularly to ensure it is safe.
Get a Quote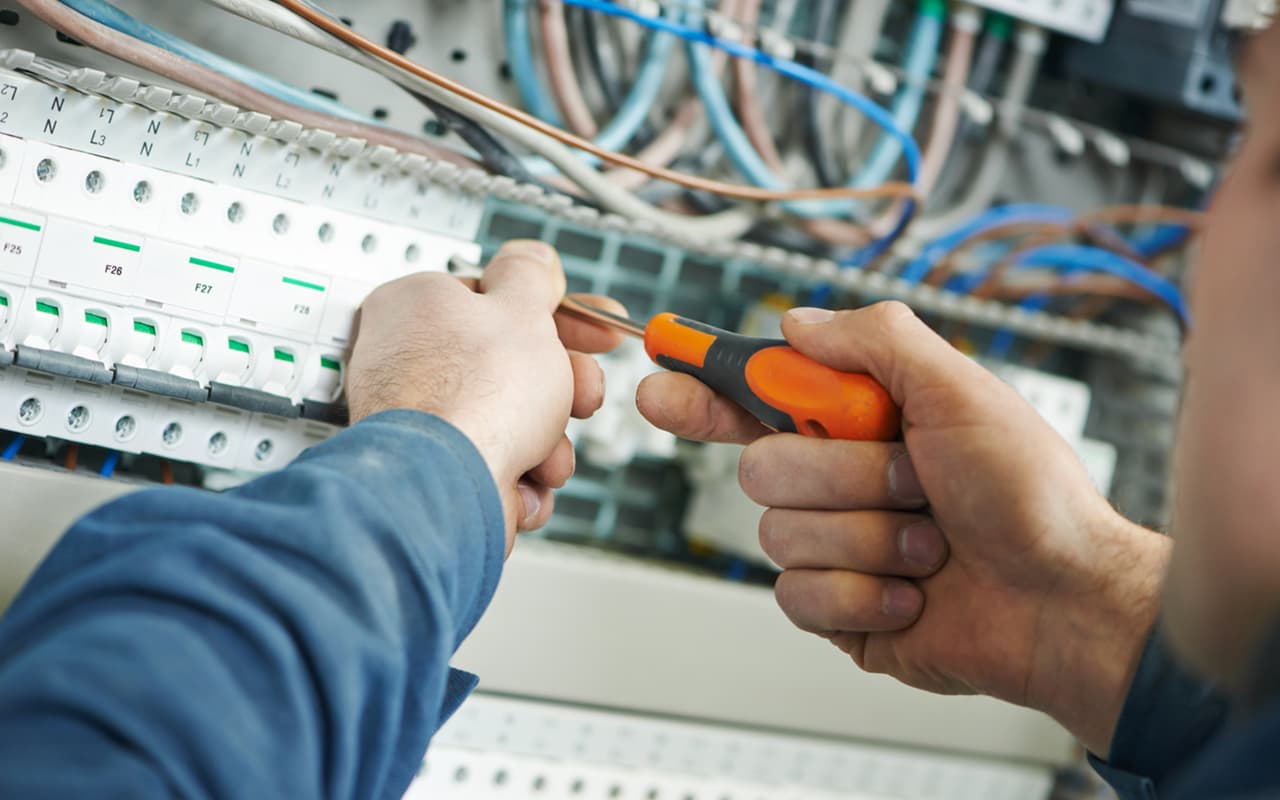 Would recommend using this service

Tom has been incredibly helpful throughout the whole process of getting my life insurance set up. Very knowledgeable and absolutely 'on it' to get me the best product out there.
First Class Experience

Service was first class, Simon kept me informed at every step in the process.I would have no hesitation in dealing with him again.
Great, Quick Service

Dealt with Karl who could not have been more helpful. Made the whole process of getting life insurance far easier than other providers I had approached.
Fantastic!

Approved immediately. Process was so fast and a lot cheaper than I thought. Highly recommended.
An electrician working in a large factory rather than a domestic setting has a higher level of risk because of the more complex nature of their role. They would typically work on transformers, generators and other large-scale industrial tools and maintain/repair or install electrical systems linked to these types of equipment. When working in this type of environment, an electrician may consult with other engineers due to the complexity of the job and the element of risk involved.
An electrician's working environment is generally high-risk. They can work in homes, on construction sites, in businesses and in factories, and can find the work both tiring and strenuous. Tasks involved may mean that their muscles are strained by heavy lifting, bending and kneeling for long times, and from standing or being hunched over for long periods of time. There is also a high risk of electric shock, falls from great heights, cuts, other injuries and electrocution. If they are working outside, they can also be subjected to severe weather conditions. Generally speaking, the hours involved in the role are very long, and the job can be very tiring.
How Electrician life insurance, critical illness cover and income protection works:
The following are the main conditions for underwriting an application for electrician life insurance:
Age
Health and fitness
Medications currently being taken
Any other related health complications
Level of risk associated with your job
Any accidents or injuries you have previously suffered
The Insurance Surgery is a leading life insurance specialist for electricians seeking cover. We can help you assess your level of risk and determine the type of cover you need, before putting you in touch with life insurance providers and cover plans that suit you. Just fill in one of our online forms for your free no-obligation quote for your electrician life insurance.
Electrician Life Insurance
An electrician runs a high risk of falling from a great height, suffering from electrocution or under performing due to muscle strain, injury or tiredness. Underwriting for electrician life insurance will depend on the following factors. Insurers will typically want to know more details about the following regarding your profession, health and daily activities:
Your age
Your height and weight
Any muscle strain or injury that has occurred
Any electrocution or other occupational injury
Whether you smoke
How long you have been working as an electrician
The sector you work in – i.e. commercial or domestic
Your family medical history
Any medications being taken
Any underlying health conditions
Many electrician life insurance applications can be easily accepted and underwritten online with standard terms. However, an insurer may want to discuss your application with you in more detail if the nature of your role is more high risk. For instance, an insurer may want details of times when you have worked at great heights of more than 40ft, the nature of your role and whether you work offshore.
Ratings for electrician life insurance can vary depending on a person's individual circumstances in their role, so it is important that you approach the right insurance provider that can meet your needs. At The Insurance Surgery, we can help you find the right provider and cover plan.
Electrician critical illness cover
Depending on your circumstances, as with life insurance, critical illness cover could be available to you through some insurers if you are an electrician.
Cover will depend on whether you are a commercial or domestic electrician, the type of work you carry out and the element of risk involved.
Electrician income protection
AIf you take out income protection as an electrician, any claim you make will typically be based on your ability to carry out your job. Some insurers may accept you on standard terms, but other insurers may want to add premium loadings depending on the level of risk involved.
An insurer will request details of any periods of time you have had off of work as a result of accident, electrocution or injury. It is possible to build an income protection policy that is bespoke to your needs with the right insurer.
The Insurance Surgery is a specialist life insurance expert for those in more high risk occupations such as electricians. We have helped many people find the right cover for their personal circumstances, and can compare the market to find you the best insurer for your needs.
Get a Quote