Bomb Disposal Life Insurance, Critical Illness Cover And Income Protection
The role of bomb disposal is also referred to as 'explosive ordnance disposal'. Bomb disposal technicians typically start their careers working in the armed forces. Usually, they have experienced working in war zones. Their job as a bomb disposal technician is to identify and make safe any bomb that they happen to spot in either a war zone or civilian setting. They are also responsible for the disposal of the dangerous device. A bomb disposal technician would typically work to make the following dangerous explosive items safe:
Unexploded military devices
Landmines
Unexploded grenades
Makeshift explosives
Car bombs
Any other explosives
Get a Quote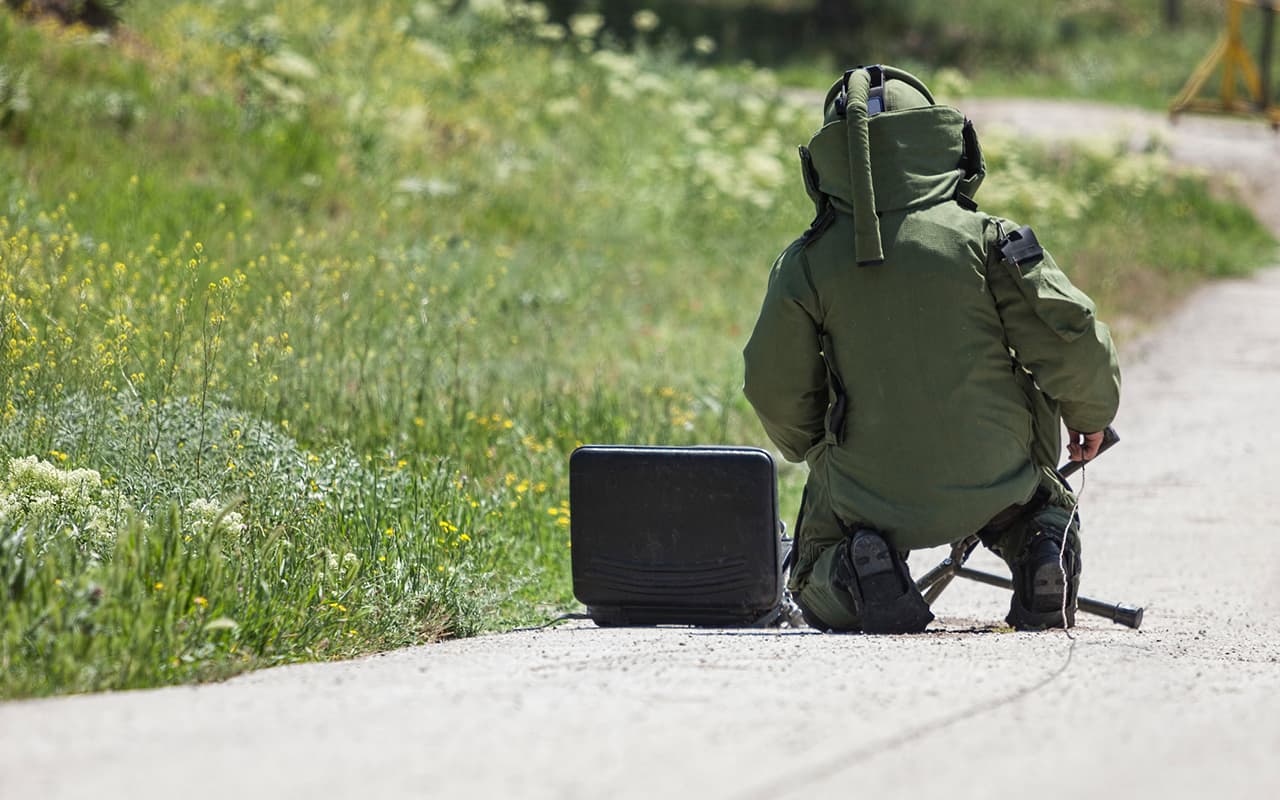 Would recommend using this service

Tom has been incredibly helpful throughout the whole process of getting my life insurance set up. Very knowledgeable and absolutely 'on it' to get me the best product out there.
First Class Experience

Service was first class, Simon kept me informed at every step in the process.I would have no hesitation in dealing with him again.
Great, Quick Service

Dealt with Karl who could not have been more helpful. Made the whole process of getting life insurance far easier than other providers I had approached.
Fantastic!

Approved immediately. Process was so fast and a lot cheaper than I thought. Highly recommended.
A bomb disposal technician's role would vary depending on the area of the armed forces they worked in. They would also work with the police to ensure that areas surrounding the unexploded device are safely evacuated. General requirements of a bomb disposal technician's role include:
To spot any unexploded devices or explosives using drones, remote controlled robotics or metal detector equipment
Defuse bombs
Destroy bombs and other explosive devices in a bomb chamber
Use other explosives to destroy explosive items
Determining the safety of the public and other work colleagues
The above is only part of a bomb disposal technician's role. Some technicians work within ammunitions facilities, in which explosives, missiles and other weapons are maintained before being loaded on to armed forces' aircraft. Roles will always vary depending on the section of the armed forces the individual is working within. Other names for the job include 'ammunition technical officer' or 'ammunition/weapons technician'. Some bomb disposal technicians also work underwater to diffuse unexploded bombs in the sea. In this role, an ability to dive and swim to deeper depths is required. Many bomb disposal technicians within these roles are already highly trained divers.
How Bomb disposal life insurance, critical illness cover and income protection works:
An insurer will assess the following main conditions for underwriting an application for bomb disposal life insurance:
Your general health and lifestyle
Whether you smoke
Your age
How hazardous and risk-related your occupation is
Medical history
At The Insurance Surgery, we are life insurance specialists who can help you to find cover to suit your needs when you have a dangerous occupation, such as bomb disposal. We can help you to identify the best life insurance providers and cover plans for your needs. Just fill in one of our online forms for your free no-obligation quote for your bomb disposal life insurance.
Bomb Disposal Life Insurance
Due to the high risk nature of a bomb disposal technician's job, there are several underwriting criteria for bomb disposal life insurance that an insurer will want to assess. As part of the life insurance application process, an insurer may ask you the following questions about your profession:
How much experience/how long you have been a bomb disposal technician
Your age
Your health, fitness and lifestyle
The general duties you carry out in your job and the level of risk involved
Whether you smoke
Whether you have any underlying health conditions such as diabetes or heart disease
The level of stress associated with your role
Whether you are a diving bomb disposal technician working underwater
Whether you have had any previous injury or accident in your role which has left you with health complications
If you have many years of experience within your role and do not have a history that involves an accident or injury, you may be offered cover on standard terms – although this will depend on where you are based in your role and the element of risk involved. It may be the case that you require insurance from a specialist insurer that deals with high-risk professions.
As with any life insurance application, an insurer will also want some more details about your general health and fitness, details of medications you are taking, and notes of any other medical-related complications. They may request to see medical notes from your GP. At The Insurance Surgery, we have helped many people working in bomb disposal find the right insurer offering cover for their needs.
There are a number of additional factors that could affect your bomb disposal life insurance premiums. These are:
Your age
Whether you smoke
Your general health and lifestyle
Family medical history
Ratings and premiums for bomb disposal life insurance can vary depending on a person's individual circumstances, the risk involved in their job and the branch of armed forces they work in. Contact us at The Insurance Surgery today so that we can help you approach the right insurance provider for your needs.
Bomb disposal critical illness cover
Depending on your circumstances, as with life insurance, critical illness cover could be available to you through some insurers, and even on standard terms. Cover will however depend on the level of risk associated with your occupation.
Typically speaking, many insurers will not give explosives handlers critical illness cover for loss of limbs, and other hazards related to their profession. Always check your policy carefully to ensure it gives you the cover you need. Speak to us at The Insurance Surgery today to ask about critical illness cover and specialist insurers that offer this to bomb disposal technicians.
Bomb disposal income protection
As there is a high level of risk in you being unable to work should you become injured or suffer an accident as a result of your profession, there are many standard insurers that will not offer income protection to bomb disposal technicians.
However, there are a select number of specialist insurers that may offer cover. Many policies may have war and terrorism exclusions.
For more information about Bomb Disposal Life Insurance, critical illness cover and income protection or a free no obligation quotation you can contact one of our team of experts on 0800 083 2829 today.