Epilepsy and life insurance
Purple Day was launched in 2008 and is held annually to get people across the globe talking about and raising awareness of Epilepsy.
About Purple Day
Purple Day was the brain child of a special individual called Cassidy Megan (pictured) to make people aware of her own struggles with Epilepsy. Cassidy wanted to raise awareness of the condition and to try to dispel some of the myths that surround Epilepsy, especially for people who live with the condition. The aim of the campaign was also to help people who suffer from seizures by letting them know that they are not alone.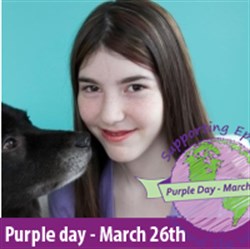 Read more about Cassidy – click here
After the initial idea was then supported by The Epilepsy Association of Nova Scotia in 2008. This was then followed in 2009 by the New York based Anita Kaufmann Foundation and The Epilepsy Association of Nova Scotia joining forces to take the event global. Purple Day 2014 promises to be the most successful year yet with involvement of numerous charities and organisations across the globe and the support of tens or even hundreds of thousands of individuals through social media. This year, social media will help to increase the coverage yet again and should mean that thousands more individuals will hear about Purple Day and what it's all about!
Read more about Purple Day – click here
How does Epilepsy affect Life Insurance?
The Insurance Surgery specialises in helping people with Epilepsy and other pre-existing medical conditions to find life insurance and critical illness cover to protect them and their loved ones. We have found over the past several years that premiums for chronic conditions such as Epilepsy and Diabetes especially have considerably reduced. The main reasons for this reduction in premiums for life insurance and critical illness cover are:
Greater competition from insurance providers
Improvements in medication and treatments of chronic conditions
Increased mortality data for conditions such as Epilepsy
Reduced underwriting costs for insurance providers
Life insurance is generally readily available for people living with Epilepsy and we are usually able to obtain critical illness cover for Epilepsy as well. We are finding that insurance rates for Epilepsy can vary from standard rates at the less severe end of the spectrum to decline if there are major complications which is less common.
Some recent examples of cases where we have obtained cover for clients with Epilepsy are:
Case study 1
Male (age 42) non-smoker
Sum assured: £121,000 mortgage protection (decreasing term)
Term of policy: 20yrs
Medical history: Epilepsy (grand mal) and Cerebral Palsy
Premium: £21.89
Case study 2
Female (age 30) non-smoker
Sum assured: £100,000 family protection (level term)
Term of policy: 25yrs
Medical history: Epilepsy (grand mal)
Premium: £10.70
As you can clearly see from the examples provided above, premiums for life insurance in these cases were very low for the levels of cover that we were providing. We are certain that premiums will remain at these levels or even continue to drop which can only be good news as it means that cover will be available and affordable for more people. We are still finding that the differences in ratings from one provider to another can be considerable so it is vital that you speak to a specialist if you suffer from a pre-existing condition. We use our many years of experience to direct each and every client of ours towards the best providers for their medical conditions and individual circumstances. Written by: Dan Sharpe (Sales and Marketing Director at The Insurance Surgery)
For more information about Epilepsy life insurance or any other pre-existing condition, contact our experts: Complete our online enquiry form OR Call us free on 0800 083 2829