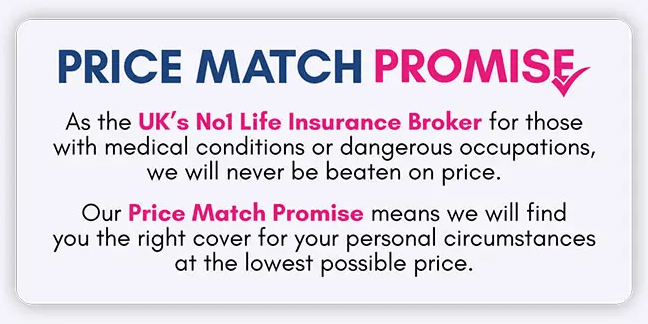 Need advice with your life insurance quote
?
Get in touch with us and we'll compare life insurance policies to get you the best cover for pre-existing medical conditions, dangerous occupations and activities.
What Are The Different Types Of Life Insurance
?
Speak to an advisor to find out more about the different types of cover available and how they can suit your requirements:
Whole of Life
Guaranteed pay out whenever you pass away with Whole of Life. One of the best ways to invest your money!
Family Income Benefit
A Family Income Benefit policy works in exactly the same way as any other life insurance product, as it pays out a Tax-Free payment on death. The main difference between Family Income Benefit and other life insurance policies is that this type of cover pays-out a regular income rather than a lump sum payment.
Critical Illness Cover
Critical Illness Cover is cover against the unforeseen events that life can throw at you. If you have critical illness cover in place, it will pay out a lump sum if you become seriously ill or have an injury which stops you from working.
Over 50's Life Insurance
You do not need to answer any medical questions or provide evidence to complete the application. It is a guaranteed acceptance policy, and anyone who is over 50 can take out a policy.
Mortgage Protection
Mortgage Life Insurance cover is put in place to ensure outstanding mortgage repayments are paid off in the event of death, giving your loved ones one less thing to worry about. Without Mortgage Life Insurance Cover in place, and if your family can no longer meet the repayments in the absence of this cover, they could be left facing financial issues or even risk losing their home.
Relevant Life Insurance
This type of policy is a Tax efficient way to offer an employee benefits scheme or to provide cover for your company directors. Introduced to help provide protection to a companies employees or directors and allows the company to claim back certain elements of Tax on the premiums.
Can I get Life Insurance With a Pre-Existing Medical Condition
?
The Insurance Surgery is also a leading life insurance expert for people with pre-existing medical conditions and we specialise in making sure that you get the best cover at the right price, regardless of your health. Our team of experts have a detailed knowledge of the underwriting process for all of the top insurance providers in the UK and we know which insurance provider will be the best to protect you and your family. We have been working with people with pre-existing medical conditions to find affordable life insurance and we have helped thousands of families to protect their financial future.
Some of the main pre-existing medical conditions that we work with are:
Diabetes (Type 1 Diabetes / Type 2 Diabetes)
Multiple Sclerosis
Mental Health
Heart Conditions
Kidney Conditions
Cancer
HIV
We aim to offer some cover to everyone regardless of your medical history and over the years we have developed links with specialist insurers as well as main stream insurance providers.
Can I Get Life Insurance If My Job Is Dangerous
?
Life Insurance for people who have a hazardous occupation or dangerous job, you may also find it can be difficult to get the right cover in place to protect your family or your business. The Insurance Surgery is also a life insurance specialist for people who have this type of occupation and we know which insurance providers would accept your application and we aim to save you money on your premiums. If you have been declined cover in the past or had cover accepted on special terms due to your occupation then we are here to help.
Some of the main occupations we work with are:
Armed Forces
Builders / Construction Workers
Emergency Services (e.g. Police, Firefighters or Ambulance)
Offshore Workers (e.g. Oil & Gas, Divers, Rig Workers etc.)
Pilots
Professional Sports
These are just a few examples of some of the professions that we work with and have helped people in these and other hazardous occupations.
When Is The Best Time To Buy Life Insurance
?
Life Insurance is underwritten in the same way as most insurance products and it is based on a number of risk factors, such as:
Age
Smoker status
Health
Occupation
Sports / Hobbies
Family History
The general rule is 'the younger and healthier you are, the cheaper the premiums will be' for the cover that you need. The fact is that most people wait until later in life to obtain cover, once they have a mortgage or have had children so have a genuine need for Life Insurance.