Working from home: a guide
Here at The Insurance Surgery we understand that there has been a lot of disruption to people's lives as a result of the spread of Covid-19; meaning that many people, including ourselves, have had to work from home. That's why we've created this guide to help you stay focused whilst working from home.
Here's 10 tips to follow when working from home:
Wake up early/with enough time to get ready
Get dressed
Have breakfast
Have a designated work space
Don't eat where you work
Take regular breaks
Keep in touch with people/team
Stay off your phone for non-work purposes
Exercise/keep moving throughout the day
Find a routine that works and stick to it
Although it might seem like a luxury that you can roll out of bed ten mins before you start work, it can have a negative impact on your work. You should create a routine just like you would if you were working out of the house. Have a dedicated time that you wake up, make yourself breakfast and get dressed. Even if you're changing out of your pyjamas into joggers, it will still help you mentally prepare for the working day ahead. Make sure that you set out one place for your work, even if you have a laptop/portable work make sure that you pick one place to work. This will help you to focus all your work thoughts in one place and you won't lose any of your notes around the house. It is also important that you don't eat at your desk, take time to step away from your work for your lunch to give yourself a break. Just because you have all your work stuff in your house, doesn't mean your work can wait till later. If you set out a designated work schedule, then your work will be completed earlier; allowing you to log off as normal and relax. Once you have finished your work for the day, don't log on again unless necessary, this will allow you to unwind and rest, ready to work again tomorrow. It is important to realise that you're only human, you will get distracted. That's why it's important to allow yourself to have small breaks throughout the day. It is also important to keep moving, sitting down for long periods of time can cause you issues, try creating a small exercise routine to keep you active in the house. Many celebrities and personal trainers are releasing videos/live streaming exercises that you can follow ranging from beginners to professional, so it should be easy find one that works for you. Under government advice, you are also allowed out the house once a day for exercise; even if you just go for a small walk, it can massively improve your mood.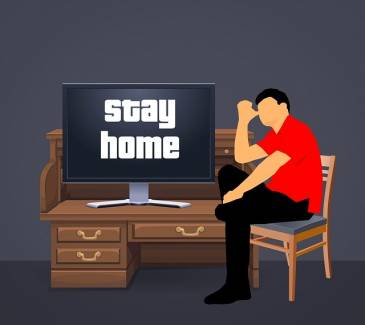 Working from home can be a challenge for many people, especially if you struggle to keep yourself motivated. That's why it's important to recognise how much work you're capable of each day and don't try to push yourself over this limit. Prioritise the tasks that you need to do, and make sure that you're not wasting time on tasks that are unnecessary. There are many apps and sites that allow you to organise your day, or you could simply use a diary or even just make a to-do list; whatever works best for you. However, don't make it all about work, even when you were working in an office it is unlikely that you would be in work mode all the time. Make time to talk to people, friends, family or colleagues, so that you stay connected to the world. It is normal to feel isolated at home, especially if you live alone, that's why it's important to reach out to people. It is also important to look out for other people, especially the vulnerable, a quick call might just brighten up their day and will help people to stay connected in this crisis. Overall, your mental health is the most important factor when working from home. It's new for most people right now, so you should expect a lot of trial and error until you find something that works for you. Don't push yourself to work exactly like you would in the office as this is unrealistic and remember to stay connected with people so that you don't lose touch with the outside world. For people who need
mental health life insurance
, we're here to help. This includes helping you to find the right
depression life insurance
and
stress life insurance
for you.