Emily: Crossing the Sahara Desert during Breast Cancer Treatment and raising money in the process!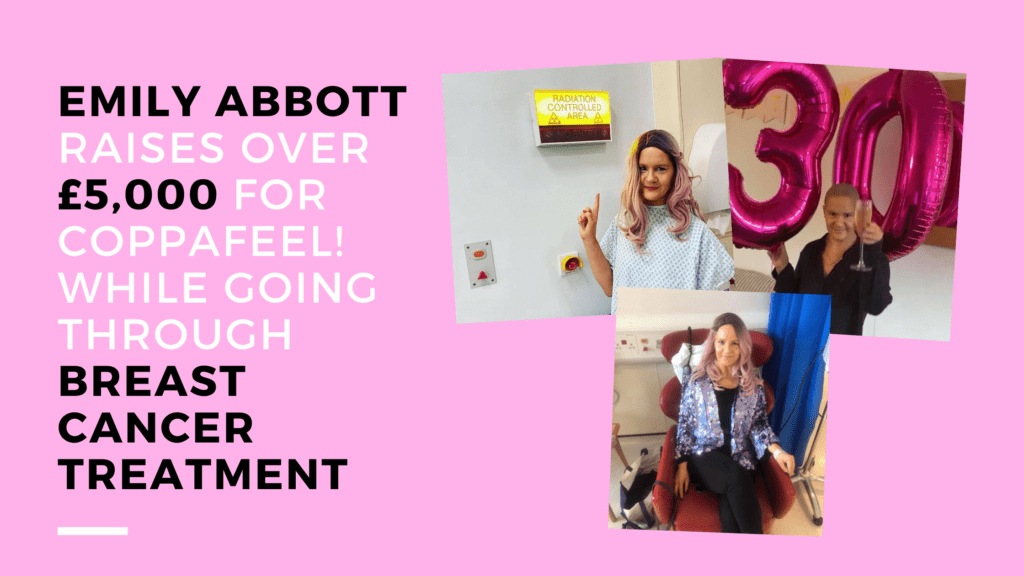 We were very fortunate to virtually meet Emily and find out more about her story of being diagnosed in 2019 to being involved in trekking across the Sahara Desert with other '
Boobettes
' For
Coppafeel!
, a well-known breast cancer awareness charity in the UK. Emily describes how over a year ago at 29 years old she was on holiday in Mykonos and noticed something different when putting on her bikini. Upon her return, she chose to go to the doctors and have a check-up just a week before starting her new job. Unfortunately, Emily was diagnosed with
Stage 3c breast cancer
that had spread to both her lymph nodes and supraclavicular nodes in her neck. As a young girl planning on all the things, she wanted to do before turning thirty they sadly had to be put on hold. For many of us, a diagnosis like Emily's would stop us in our tracks but this fantastic woman chose to help raise awareness by creating her
@theboobiebunch
Instagram account which has documented her breast cancer journey. Emily's updates take you through the real-life challenges of having this condition, numerous surgeries, and ongoing treatment. Throughout Emily's journey, she wanted to help raise awareness and offer support for other women like herself going through the treatment which she could do through the power of social media. She has also gone on to make new friends who are going through similar situations.
55,000 women are diagnosed with breast cancer every year in the UK.
Following on from the newfound friendships Emily has made across social media she also decided that she wanted to have a place in the huge charity fundraising event for CoppaFeel! This involves trekking across the Sahara desert while still going through treatment herself. To have the opportunity to be involved within the team, Emily created a fantastic rap about her journey which captured the attention of CoppaFeel! and earned her a place on the team.
CoppaFeel!
a Breast Cancer charity launched by Kris Hallenga and her twin sister in 2009 to raise awareness of the diagnosis in young women. Kris was misdiagnosed twice and had to fight for her GP to refer her and was then sadly diagnosed with
stage 4 breast cancer
which is terminal. Kris is an inspiration to all women and through her dedication, she has built a fast-growing charity which is raising awareness for young women to check their breasts regularly.

"Let's be real, I owe Coppafeel! my life" – Emily Abbott
Due to the global pandemic, the trek has been put on hold until 2021 but this hasn't stopped Emily from joining her teammates on training walks through Richmond park and across various places in London where she lives. There are 80 women taking part in the trek next year and between them all, to date, they have raised a staggering
£144,831
for CoppaFeel! There is still time to donate and help support Emily on her incredible trek next year.
The Insurance Surgery
is very proud to have donated £280 which has taken Emily over her £5,000 target and we want to help her raise more by sharing her powerful story. We wish Emily all the best with her event next year and can't thank her enough for her bravery of sharing her journey to help other women. You can still donate here
https://comeflywithgicoppafeel.everydayhero.com/uk/emily-abbott-sahara-desert-trek-kicking-cancer-for-coppafeel
And, if you'd like to learn more about
breast cancer life insurance
, please don't hesitate to talk to us today.